The Pearce family have always been involved in farming, but in 2006 we sold the livestock and put the grass fields back into arable rotation.
To ensure that we minimise downtime and increase the efficiency in the field we updated and continue to keep our machinery up to date. With our vast experience in arable cropping this means we can specialise in arable contracting for other local farmers, whether it be a complete stubble to stubble contract or an individual arable operation and provide a range of different services.
Our team are fully trained and have plenty of experience for all aspects of arable operations. We regularly service all our machines and regularly attend NROSO certified training for the spraying.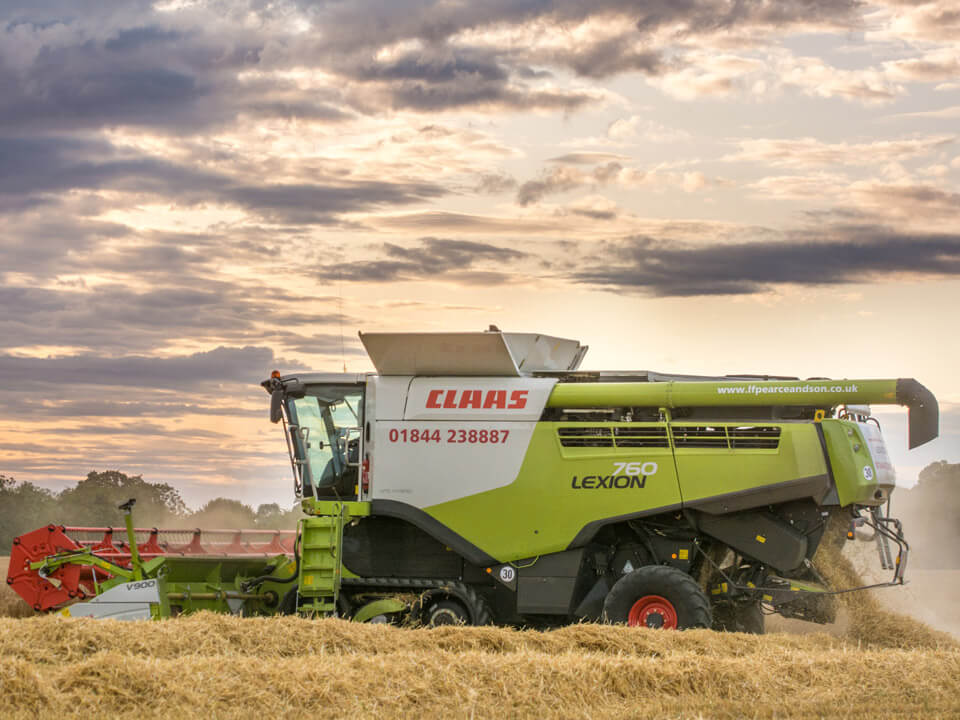 We run a Claas Lexion 760 on tracks with full GPS guidance.
If the weather is against you and you require a one off help at harvest or if you are wanting to contract out the combining please do give us a call as we will be more than happy to help if we can.
If needed we can help with corn cart too, providing our own tractor and trailers.
We run a range of kit depending on your requirements and soil type.
Minimum tillage cultivations with a Sumo trio one pass cultivator
Ploughing and subsoil operations to counteract compaction
Furrow pressing with a Simba cultipress
General cultivations including rotavating and spring tining
Mole drainage and field drain jetting
If you are wanting to get OSR in we can plant oilseed rape combined with a sumo cultivator.
Spraying & Crop Applications
We run an Amazone trailer sprayer which is capable of spraying low or high volumes including oil seed rape desiccations; and a Amazone Fertilizer with weigh cell technology and GPS guidance, which means slug pellet and avadex application isn't a problem!
These are calibrated every year in accordance with the red tractor guidance.
We understand that getting the seed in the ground can be stressful as it is weather dependent; wet weather and a lot of rain can make the planting season short, especially for winter drilling.
If you are needing someone to come in and drill or help drill some land if you have a lot to get in, please give us a call.
We can offer the following:
Cereal, grass and oilseed rape planting with a Vaderstad disc drill
Cereal and oilseed rape planting with a KRM front press and drill
Cereal and oilseed rape planting with a KRM/Kuhn power harrow combination
We run Fendt 718 & 828 tractors equipped with GPS and these are available for hire with a driver for any silage cart or grain cart if required.
We can also provide topping of grass paddocks or margins, power harrowing or hedge and verge cutting.
Getting machinery to and from places isn't an issue with our hook lift truck and trailer which can also run with dump, curtain side, grain, flat trailers and water tankers. We can also hire our JCB 560/80 telescopic forklift which comes with a trained driver and has a range of attachments, including buckets, grabs and a sweeper broom. Along with this we can also snow clear for local authorities and local businesses.
We offer fabrication and workshop facilities along with a mobile fleet support vehicle.  We can build machinery to your requirements and specifications, and we have an impressive back catalogue of machinery builds from mole ploughs, snow ploughs through to trailers and attachments. We also undertake machinery refurbishments e.g. boom replacement and refurbishment on sprayers.
In the yard, we have our sister company Black Cat Shot Blasting & Finishing who can shot blast and spray paint almost anything. From small domestic household items to large industrial projects. Including and not limited to; plant & machinery, trailers, skips, car chassis to wheels, gates, & garden furniture!  There is also a fully ventilated spray booth on site to guarantee a professional finish.