We have over 10 years experience in running our state of the art grain processing and storage facility.
We are fully TASCC approved for storage and bulk haulage and we are members of the UK NIR grain network for testing of crops. The grain facility is within a secure yard equipped with CCTV and alarms.
We can also provide you with a full HACCP Plan to ensure optimum food traceability and safety.
What we have to offer: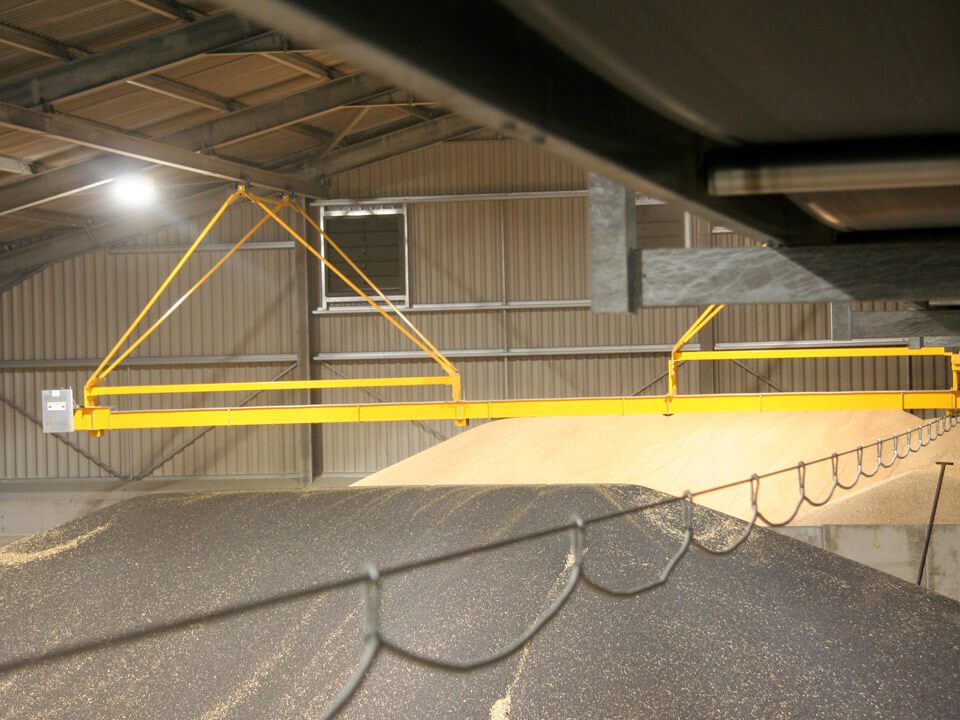 We offer short and long term storage contracts directly to farmers and to grain merchants.
All of our contracts are tailormade to suit your requirements as we understand not all client's needs are the same.  Crops can be handled at up to 100 tonnes per hour and we have storage for crops in ranges of 300, 600, 900 and 1200 tonne bays.
Every load that comes into store will be recorded on our computer system which links the weighbridge weights, analysis testing and storage records. Once everything is in or the store is full, we can provide you with a spreadsheet with all the details on.  All of the storage bays have underfloor ventilation and temperature probes in so the grain is monitored daily.
The grain remains fully in your control, giving you the flexibility to sell and move when you want. Once the grain has been sold, or is ready to be moved, if required we can help transport the grain to different locations around the UK with our bulk haulage lorries.
We have a Westrupp fine cleaner which makes cleaning of stressed or contaminated crops easy.
When the crop comes in it can go straight through the cleaner and remove any waste before going into the bay.
If you want the waste please contact us, if not we will dispose of this for you.
If your grain comes in with a high moisture content, we can run this through our Perry Continuous Flow Drier at 5% moisture removal at 50 tonne per hour. We do need at least 29T to run through the drier to get it circulating.
If you are storing with us we can dry crops and put them straight into store, or if required we can do a quick turnaround and empty into a silo for collection.
Remote Sampling & In-House Moisture Testing
The grain lab is TASCC approved and we are members of the UK NIR grain network which means our moisture & sampling machine is tested monthly to the industry set standards.
Every load that comes in will pass through the sampler and data will be recorded. If you have a sample that you need testing this can also be run through and we can provide oil, moisture, protein, nitrogen and bushel weight analysis.  
We are fully trained and certified for treatment of bug infested grain & rejected loads.
As the crop is being tipped into the pit we can spray it with K-Oboil to kill any bugs. This will then pass through the cleaner to remove any unwanted bugs in the crop.
For transport we have truck washing facilities on site for the lorries to clean out on after, as with this treatment there is no waiting time so the crop can be turned around and can be loaded back out onto the same lorry.
We are currently running a Satake Optical Colour Sorter which can provide huge benefits to farmers and grain merchants.
The colour sorter has the ability to ensure admixture removal, species separation, ergot removal, bushel weight and Hagberg improvement across the nine operating channels on the machine.
It can also sort rogue varieties or contamination from other crops. Having your crop colour sorted reduces waste, increases the crops entering higher value food chains and can increase premiums paid to growers.
If you require any colour sorting, please do give us a call and we can discuss your requirements and options.