Groundwork Contracting in Buckinghamshire
The last couple of weeks we have been all hands on deck, preparing/moving machines and getting the paperwork ready for a new exciting project which is very local to us at Oakley Airfield, Bucks.
You may have seen in the news recently that Bucks County Council have given approval for a driverless car testing track at Oakley Airfield; we are excited to be working on this and doing the groundworks for the project and working alongside a great team of different contractors.
We started on the site in Mid-March, the first job has been to create an area for the welfare facilities to be situated on. We started with a blank canvas here, so we marked the area out that was going to be used, scraped up and levelled the area before laying the Tarram (ground membrane) down. We have now laid the stone and using the roller rolled it in and the welfare units are now positioned out on it.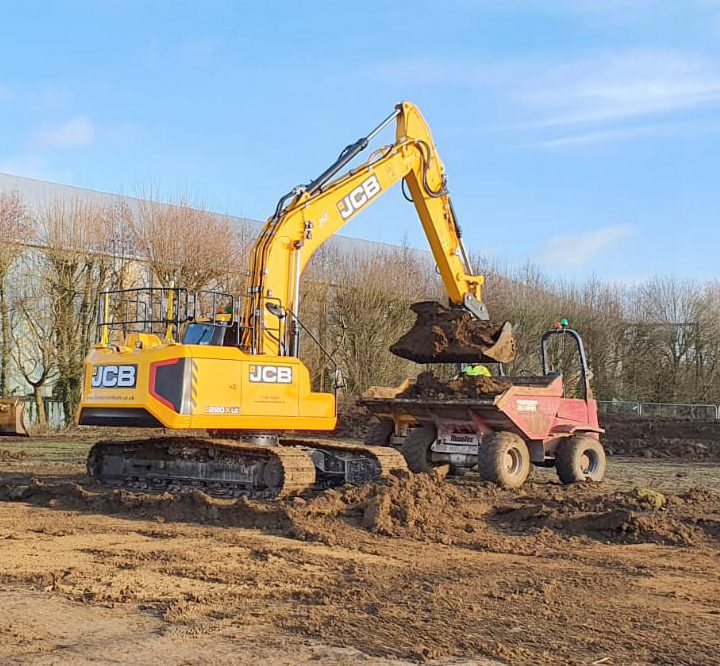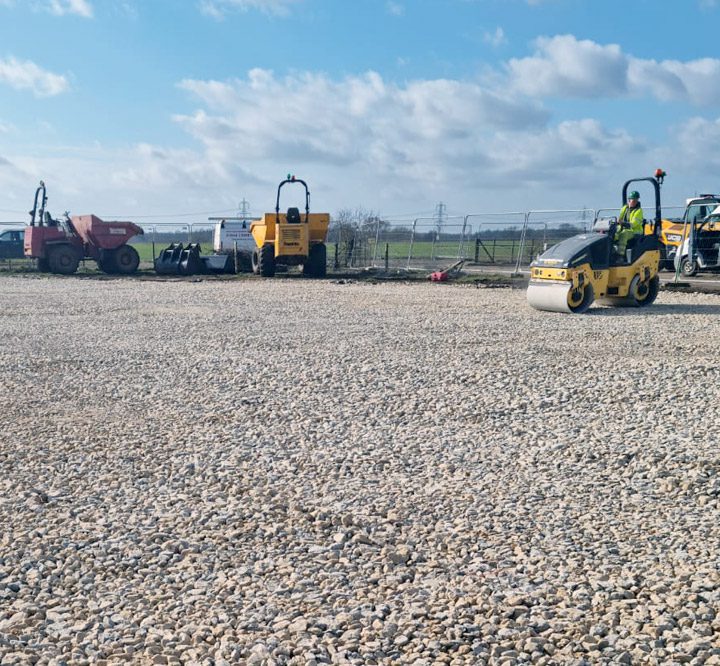 Groundwork Contracting Buckinghamshire
In the last update we had managed to finally make a start on installing a new culvert bridge in and updating access into a field in Oakley, Bucks.
We managed to get the culvert and sandbag wall in place quickly but there was more water than we were expecting in the ditch! The kerb sets went in and the concrete base layer was laid. We then had a local contracting tarmac firm came in to lay the tarmac for us. We have stock fenced around from the existing fence and have hung a new metal gate in position for security. We have now finished this job as per all the drawings and plans which the council had approved. It's made a really smart and safe access into the field off the road.
We are fully street works accredited so if you have any accesses you need updating, please get in touch.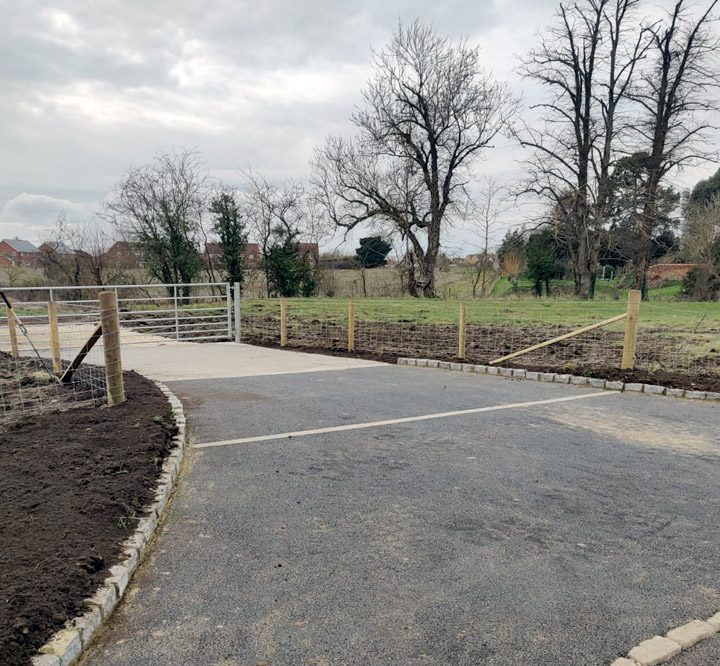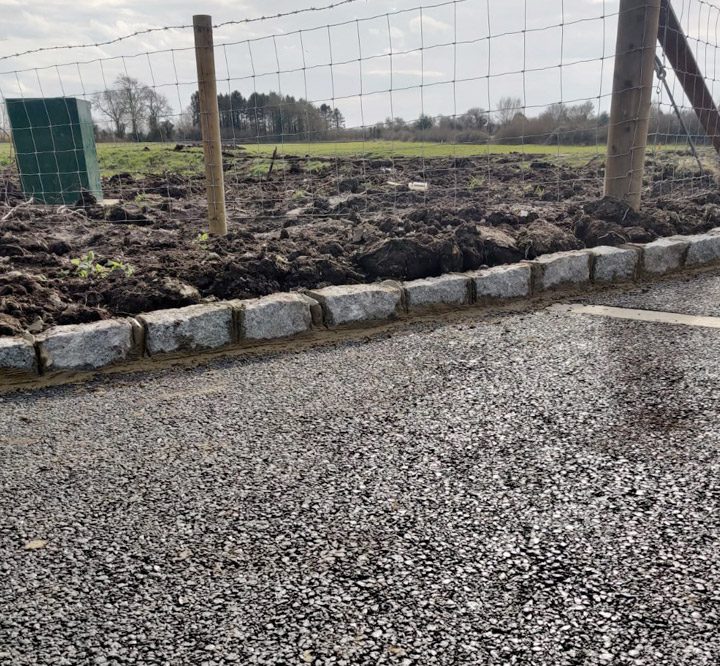 Groundwork Contracting Oxfordshire
Staying nice and local the team have been on a residential site near Thame, Oxfordshire.
We have been doing a few different jobs here but one of the main jobs was to install some concrete crazy paths through an area of his garden. The customer had imagined the type of paths that he wanted and so we brought his idea to life.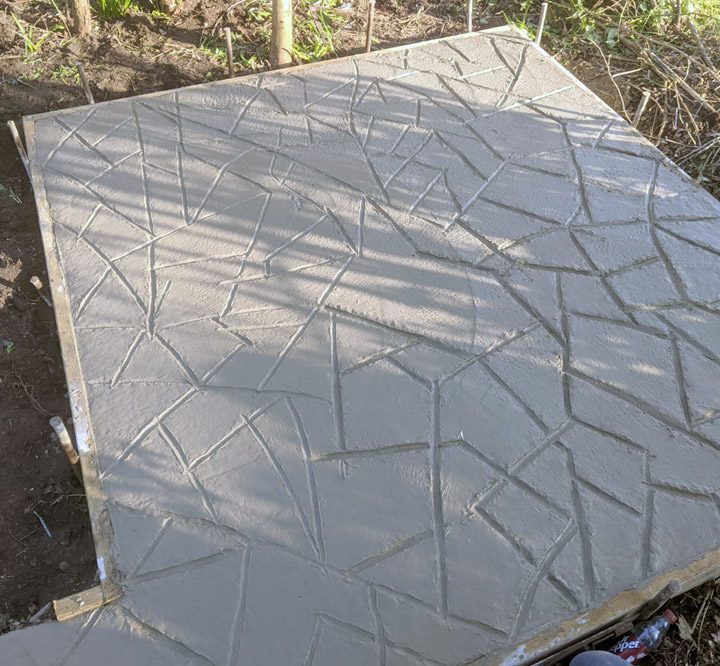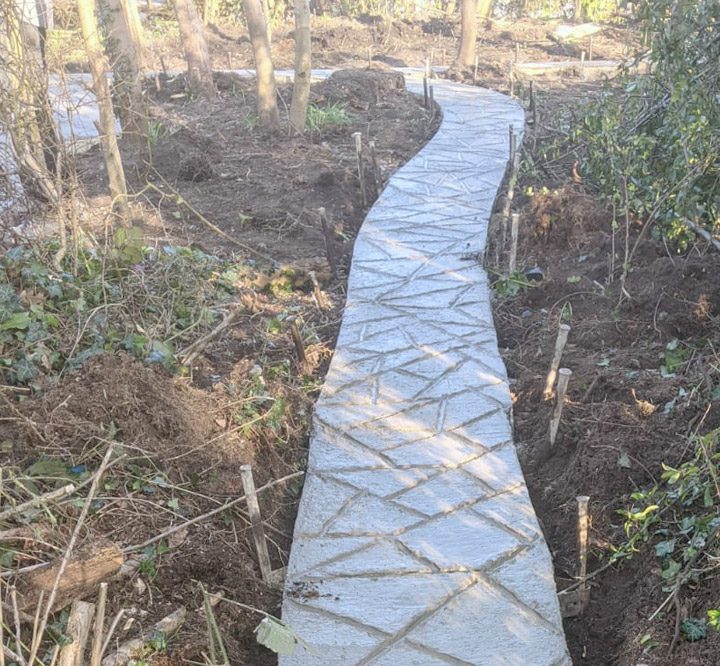 While on this job, Lee has been updating some fencing to give the customer some more privacy from the road. Here Lee installed a feather board fencing replacing the old iron railing. The groundwork team have also been at two sites near Great Milton, Oxfordshire doing some groundworks inside and outside to an existing shed. Here we have been laying some new concrete to create some hard standing areas.